WORKING DAYS in SPARTI park - Tuesday, Wednesday, Thursday, Friday, Saturday and Sunday from 10 till 18:00
Reservations by phones 99-1000-40 and 99-1000-03 for more than 10 persons only
All ages
From 3 years old, up to no limits.
Please call from 9AM till 6PM +357 99 1000 40
+357 99 1000 03
How to find us
GPS: 34.882956, 32.862960 Below you'll find a picture with google maps link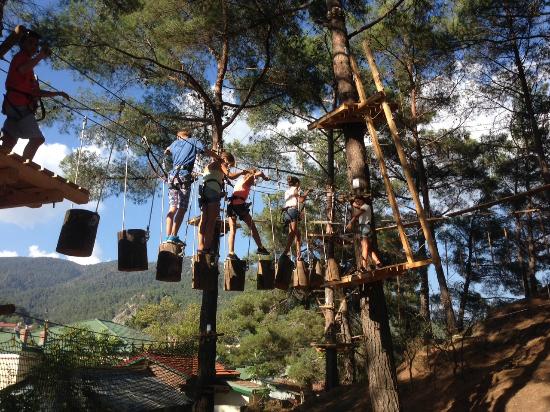 Map and location

By car ...
Take a main direction to Trodos (Road B8), next turn to Platres village. Continue to move on the main road in the direction from Kato Platres to Pano Platres. "Sparti" park is in front of the Hospital.
By bus ...
Limassol: The bus to Troodos № 64 starting from Pizza Hut next to Dasoudi Beach Park at 9:00 with all stops by request.  On the bus station near Old Hospital it will be at 9.30 a.m. To back to Limassol at the bus station "Sparti" in Platres it will be at 15.40. Bus schedule »
Safety
All games and courses are united by special cable.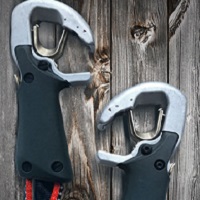 Click-It system
Every person connected to a click-it system, which one making impossible to completely disconnect from the safety cable. There is double magnetic protection.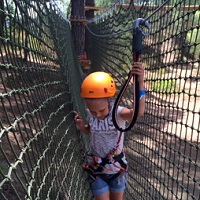 Metal cable
will connected to harness system for advanced safety.All participants will be outfit in climbing harnesses and helmets
WORKING HOURS 
January, February – Park is closed.
March, April – Park is OPEN on Saturday, Sunday from 10:00 to 17:00
May – Park is OPEN on Saturday, Sunday from 10:00 to 18:00
June – Park is OPEN from Wednesday to  Sunday from 10:00 to 18:00
July – Park is OPEN from Tuesday to Sunday from 10:00 to 18:00
August – Park is OPEN EVERY DAY from 10:00 to 18:00
September – Park is OPEN from Wednesday to Sunday from 10:00 to 18:00
October – Park is OPEN on Saturday, Sunday from 10:00 to 18:00
November, December – Park is OPEN on Saturday, Sunday from 10:00 to 17:00
For more information and bookings call, please from 10.00 to 18.00 tel: 357-99-100003, tel: 357-99-100040.
"You are welcome to the first rope adventure forest park in Cyprus! This is unusual interesting sport attraction and family vacation in a beautiful mountains of Pano Platres. The name is Sparti because spartians created and used this specific kind of spiritual and physical training. We are doing it for the health and sports lifestyle in Cyprus. There are more then 100 games from France. Speed zipe-line and free fall jump are imported from America. There are no analogs in Europe yet. All the trees are carefully protected. Dress - sportive. Health - normal condition (apart from heart disease, physical and mental disabilities). Weight of the body - below 100 kg."
,
Reservation is required for group of 10 people and they will get a 10% discount (except Sunday and Public Holidays). Group visit should be reserved.
Prices for 3 hours
Age
Lines
Price
Kids park
2-5 years old
3 Orange
14 €
5-9 years old
3 Orange + 2 Violet
14+4 €
6-10 years old
3 Orange + 3 Violet
14+6 €
Adults park
Over 10 years
Yellow, Green, Blue, Zip Line (96m)
25 €
Over 14 years
+ Red (Free fall jump)
+10 €
Over 14 years
+ Black Speed Zip Line (115 meters)
+10 €
Over 14 years
All Lines inclusive
40 €
There is huge difference between kids and adults park. Upgrade from kids to adults - 20 €. Downgrade from adults to kids 15 €. Extra 30 min of use +5 € Private Instructor 20 € per hour Over 6 years Archery (for 4 people, free coach) 20 € Gloves: • all sizes 2-4 € We need a deposit of 20 € for each safety equipment or key from a car – (you will never forget it!) as an insurance of the equipment provided by the park. The equipment, must be returned in a good condition in order to get your deposit back.
Sorry, credit cards not accepted, CASH ONLY.
Frequently asked questions (FAQ) or Questions and Answers (Q&A), are listed questions and answers, all supposed to be commonly asked in some context, and pertaining to a particular topic. The format is commonly used on email mailing lists and other online forums, where certain commonquestions tend to recur.
| | |
| --- | --- |
| Cashier | young person, languages: English or Greek, experienced, sportive and energetic, driving licence, good character. |
| Sport operator | young person, languages: English or Greek, experienced, sportive and energetic, driving licence, good character. |
| Kitchen assistant | young person, languages: English or Greek, experienced, sportive and energetic, driving licence, good character. |